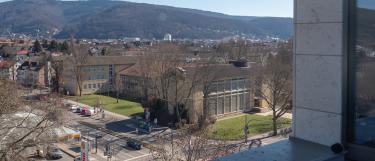 Application Bachelor Programs
Thank you for your interest in a study program in Mathematics or Computer Science at Heidelberg University!
The application procedures for the Bachelor programs offered at the Faculty of Mathematics and Computer Science differ in terms of prerequisites and requirements.
The Bachelor programs in Mathematics (100% and 50%) is not subject to admission restrictions. However, timely enrollment (matriculation) is mandatory.
Admission to the Bachelor programs in Computer Science (100% and 50%) is subject to a university's own selection procedure (entrance examination). Here, too, timely enrollment is mandatory.
For details and information on matriculation and enrollment, please refer to the corresponding study program. Students can only begin their first semester of study in the winter semester.
General information about our faculty's bachelor's programs can be found under the Studies tab on this homepage. Information specifically for international applicants can be found on the central university pages linked below.
For help with study programs, the application process, registration and regulations for foreign residents contact the Advisory Service of the International Relations Office at Heidelberg University. The general admission requirements for international applicants include a German language exam. There are further program-specific admission regulations for the Bachelor programs in Mathematics and Computer Science, that can be found on this page.
International students from non-EU (European Union) and non-EEA (European Economic Area - Iceland, Liechtenstein, Norway) countries with a foreign university entrance qualification will be charged a tuition fee of € 1500 per semester. Students from EU and EEA member states, as well as international students with a German university entrance qualification are exempt from these tuition fees, and further exceptions apply under certain circumstances. In addition, a fee of about € 170 per semester, which is meant as contribution towards administrational costs, has to be paid by all students.
When looking up the general information about applying and enroling, follow the link related to starting your degree course in the first academic semester for Bachelor programs. When navigating further, note that none of our programs is admission-restricted and that the Bachelor program in Computer Science is access-restricted, that is, one is admitted in case one satisfies the requirements in the admission regulations for the program, while the Bachelor program in Mathematics is access-free.