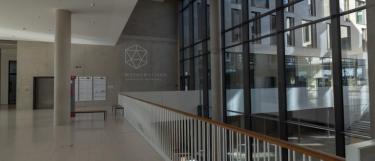 We seek to promote the interest in mathematics and computer science by organizing events for schools and for the broader public. Alumns and newcomers join in and contribute to shared knowledge and contacts.

Schools Outreach
The Faculty offers several opportunities for high school students to engage with mathematics or computer science. On the Day of Mathematics, an exciting mix of competitions, lectures and interactive activities awaits local school students interested in mathematics. And particularly gifted or interested students can take courses and exams at the University even before graduating from high school.
Links
International Affairs
Heidelberg University being tied into a worldwide network of research and teaching collaborations, students can take advantage of cooperation with many partner universities and complete parts of their studies abroad. International networks are also essential in research and advancement of young scientists.
Public Events
The Faculty of Mathematics and Computer Science offers various public events open to everyone interested in mathematics, computer science, related fields, and applications thereof. These events comprise, among others, public lectures and exhibitions showcasing personalities having shaped the sciences or art inspired by mathematics.