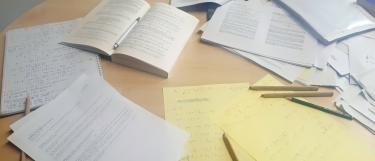 Students interested in Mathematics, Computer Science, or an interdisciplinary field, pursuing a B.Sc., M.Sc., or M.Ed., and aiming for a career in research, teaching, or the private sector, will find here in Heidelberg a full range of first-class courses for a challenging and enriching educational experience in an intellectually stimulating environment with historical cachet.

Mathematics
At the Faculty of Mathematics and Computer Science, students discover the joy of abstract thinking and sound logical argumentation at the Campus Neuenheimer Feld within the beautiful city of Heidelberg.

Computer Science
Discover study programs from different areas of Computer Science with emphasis on applications to natural and life sciences and close ties to current research.
Links
Joint Programs
Many Master programs are organized in cooperation with other institutions within the University. Find here information about those joint programs.
Apply and Enroll
Find information about the application and enrollment process for the programs offered by the Faculty of Mathematics and Computer Science at Heidelberg University.
Head Start
What comes next after my successful enrollment? How to prepare for the first semester? Where do I find support regarding the first steps? Answers to these questions - and many more - are listed here.
Student Life
Questions around studying and living in Heidelberg? Find answers and assistance under the following links.